I have written two blogs that have discussed my running a D&D campaign using the Fantasy Grounds virtual tabletop software. Dungeons and Dragons is arguably the first fantasy role playing game in the modern use of the term, and it is certainly the most popular. It was an easy choice for me to make as the game system to start using again as the FG software has a license for the D&D rules and there is a lot of already prepared adventures which greatly reduces my preparation time. My friends all played it as well, so it was simply a matter of learning the changes in. 5th edition (the game is pretty much completely changed from the older 1e and 2e we used to play but the concepts are the same).
I started with D&D when I started playing in high school as well, as most people did. For me, that was around 1980 and Advanced Dungeons and Dragons (the first hardcover set of rules) was just being released around then (the first three rule books came out between. 1977 and 1980). The first game I played in was AD&D and the first rules I owned was the blue box rules for D&D as the game was actually split into two branches back then. I slowly acquired the three hard cover rule books and switched over the AD&D by the end of high school. This was a major purchase for me back then as I was paying for it with allowance money and extra cash from delivering newspapers.
Not long after I started CEGEP (community college, the Quebec system splits school into high school, CEGEP and then University), I fell in with a new group of gamers and I brought some of them into my long running campaign and that was AD&D at the time.
One of the most fundamental rules in D&D is the concept of classes. In D&D, at the very start of character creation, you choose a specialty. The basic classes are fighter, cleric (healer), magic user (fragile but lots of damage and utility) and thief (now called rogue). There are rules for playing two classes at once or starting with one and then switching to another, but most people picked one class and stuck with it. This fit many of the archetypes you can find in fantasy books, at least on the surface. Conan is known as a mighty fighter. Gandalf is dressed in wizard robes and casts spells and gives sage advice. Usually the main characters of a fantasy novel do not cast spells and if they do, it is just something on the side as a minor power.
However, this is really not what most of the novels portray. Conan actually spent most of his youth being a thief, climbing walls, picking locks and he never lost that even years later when he was a king and leading armies. The image of Gandalf as just a spell caster fails when you consider that he carried a sword and directly confronted the Balrog with his sword and he was written as fighting orcs with his sword (his ride to Helm's Deep, for example). The concept of character classes and the other associated choices you made, like alignment, all worked well enough as game rules, but there was a certain hollowness in them. The modern versions of D&D have partially fixed this and have greatly deemphasized alignment to be more flavor than a hard rule to be followed with consequences, but 30 years ago these were deeply written into the rules.
One final thing that was present in the early D&D days is that there was not much published information about the world you were supposed to be playing in. There were scatterings of flavor that could be found in some spell names that were named after famous characters from the formative campaigns that Gary Gygax, one of the main creators of D&D, had run, but the world of Greyhawk that much of this had come from was not really published yet and the main rules were generic. The honest expectation of TSR (the company publishing the rules then) was that the Dungeon Master would just create their own world and adventures. Even today, most of the money comes from selling the rules books, not the published adventures.
During that time, there was no Internet as known today and obviously no online shopping. Almost all RPG products were sold in hobby stores and you made your choices by looking at products on racks in the store. One game system that had come out in 1977 and quickly gained a good reputation was a system called Runequest. I saw it in a store and looked through the rules quickly. There was a mention that the critical and fumble table was inspired by experience on the tourney fields of the Society for Creative Anachronism, and I was sold on the game. I actually cannot remember if I had joined the SCA by then (I joined in 1984), but I had certainly heard of it and that one fact was enough to draw me in.
I will go into a more detail about Runequest, and why is was different than D&D a little later on, but I want to address the current wave of nostalgia for older style RPG games. RPG games have been around in the market since the mid-1970's and with the publication of the AD&D rules, were very available from 1980 onwards. That means that there is a player base stretching back 40 or more years. The usual pattern is playing during teen years and into college and then in person gaming going mainly dormant once people graduate, the playing groups scatter as employment begins and time becomes much more limited as careers start taking over and first babies start showing up. Some people keep playing along, but many stop playing. I was still actively playing RPG (first AD&D and then Champions) when I moved to New Jersey in the early 1990's, but that was more of an accident because the SCA group of friends I was part of had a Sunday game that I joined. Once I moved away from NJ and started moving every two years, my RPG time was mostly buying the new editions of D&D and reading the rules and missing playing.
With the long time span of the games being available, many players are now in their 30's and 40's (I am about to hit 50). Many have teen age kids that are discovering the games themselves and as a fact of life, by then most people own houses, are more settled and their kids are old enough that they do not require so much time. Online games are fun enough, and games like Warcraft just climbed on the shoulders of the tabletop RPG before them, but there is something missing as compared to playing a more pure pencil and paper RPG.
You can start playing again, like I have, with the newer versions of the rules, but that does not quite capture the feeling of the original games that many of us now play. There was a huge schism and split back when the D&D rules moved from 3e to 3.5e to 4e. Wizards of the Coast (the new owners of the D&D rules) has decided to open up their game much more to the public and had created an Open Gaming License (OGL) that allowed people to create adventures and even rules using the D&D rules as a base. Many people moved over to a 3e clone called Pathfinder during that time, but the OGL actually allowed people to copy even the original D&D rules and create clones of those systems. There was a big movement then which has continued called Old School Revival and the whole thrust is to have games similar to the origins of the rules. Adventure modules are more raw and anyone you meet in the adventure is probably hostile and can be killed. The adventures tend to be classic dungeons that you enter that have traps and monsters in them.
The start of this movement goes back to the OGL and the edition split, but Kickstarter has been like adding nitro into the fuel for it. The main distribution for games that are part of this movement is the One BookShelf, mainly found on www.drivethrurpg.com and www.RPGnow.com . There, you can buy PDF copies of the rules and adventures to go with the rules.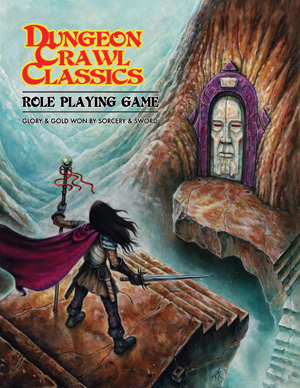 Available at www.goodmangames.com
I mainly back board games on Kickstarter, but I also have backed two "nostalgia" games. The first is Dungeon Crawl Classics (DCC) 4th edition. The Kickstarter was to reprint and clean-up the existing 3e rules. DCC is not a pure OSR game in that it is not a clone of the D&D rules, but it is very similar to the original rules and it tries to copy the spirit of the way the games used to be played. The other Kickstarter I backed was a reprint of the classic Runequest rules, the same rules I played with 30 years ago. Once I receive the hardcover version of DCC (very delayed from the original promised date which seems to be a constant Kickstarter problem) I will do a review of it, my feeling about Runequest are below,
Runequest is a great variation of RPG rules. What made it very different than D&D 30 years ago (and what still is true) is the fact that there are no classes and that the game system is very tied to one world – Glorantha – which gives the rules a lot more flavor and depth. The system moved from a D20 basis that D&D had to a percentage based system, essentially a D100 which is nominally done via 2 D10 with one being the tens and another being the ones.
Unlike D&D, where you advance in levels and get better at hitting opponents and you hit points increase each level, Runequest has no levels and no experience points. Your Hit Points (how much damage a character can take) is determined by one of your attributes, your Constitution and your HP are spread through different locations of your body. Your armor absorbs damage instead of making you harder to hit. You can, potentially, increase your Constitution and thus your hit points, but you never have that many HP and you don't get a bigger and bigger pool like D&D gives you.
To be clear, this is just flavor, in D&D you really do not take more damage, your increased HP represent your increased skill to avoid damage that would have killed someone less experienced, but the rule mechanics in Runequest are just more like what you would expect from real life.
You improve attributes by spending money and training. You improve skills by using them successfully which gives you a chance to get a better score. Every character can use battle magic and as you increase your Power attribute you can use more and more.
As the name says, as you grow in experience and power, your character will eventually undertake a quest to get their "rune" which represents their bond to their god and the magic of the world. A character with a rune is much more powerful and is called a Runelord. The game world is set up so that as adventurers increase in power, they start to be able to effect the world in greater and greater ways. It is in the lore of the world that experienced adventurers, like the player characters, were responsible for questing and recovering the dead Sun God early in the history of the game setting.
My group had fun for years playing in that world and using that system. The recent Kickstarter has resulted in a reprint of the rules and the original adventures and city settings that were published back then. All will be available in printed form from www.chaosium.com . I highly recommend that you give the system a try. If you are like me and need to run your game online as your friends are all scattered about, the rule sets for DCC and Runequest are available on Fantasy Grounds (www.fantasygrounds.com) . These are community supported rules (an official rule set for a later edition of Runequest is available) and there is little to no already prepared adventures you could purchase, but the VTT itself does support the games.