This is a review of the board game version of Temple of Elemental Evil. There is an old module version for AD&D, the older pencil and paper RPG version, but this review is on the board game. The board game was released in 2015 along with the module Princes of the Apocalypse, an updated and new 5e take on the original Temple of Elemental Evil module. In an earlier post about business travel I mentioned www.meetup.com as a way to find an activity to pass time and this is a typical style of board game you may find at a meet-up.
This review is based on my playing experience with my teen age daughters, several sessions at the local board games meet-up (via www.meetup.com) and some solo play. The tldnr version of the review is that the game is good and fun and I recommend buying it (handy link at the bottom of the review).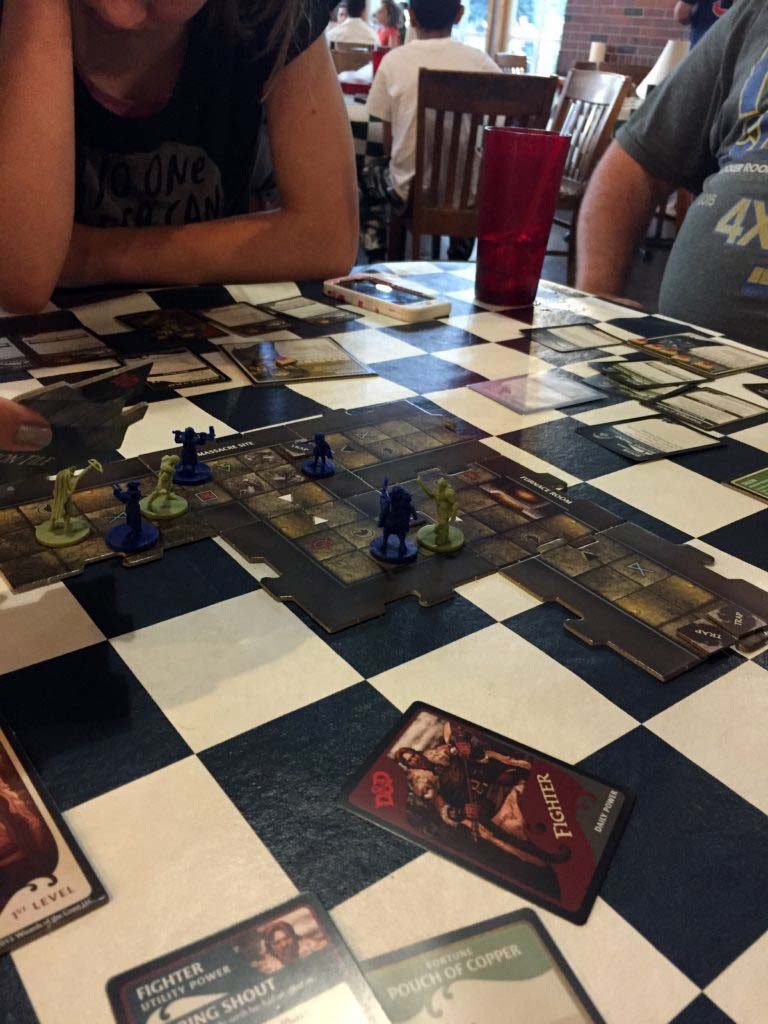 (game in full swing)
Dungeons and Dragons:Temple of Elemental Evil (ToEE for the rest of this review) is a tile and miniatures dungeon exploration game using a cut-down version of the full D&D rules set. You can have up to 5 players with each player controlling a hero in one of five classes. Each hero is represented by their own plastic miniature and comes with a cardboard tile that lists the base abilities of the hero. The five classes are Fighter, Ranger, Cleric, Wizard and Rogue. The Ranger and the Wizard are represented by female miniatures and the cleric is somewhat indeterminate. The sex of the hero makes no difference in the game and all heroes are fully clothed and should be appropriate for people who dislike the stereotype of scantily clad females in the fantasy genre.
The miniatures (about 40 different ones counting the 5 heroes and all the monsters) are well done and detailed, but they are made of fairly soft and bendable plastic and my game arrived with two of them broken. They were easy to fix with a dab of modeling glue (anything that works well on plastic will be fine). I have seen pictures online where they have been painted up and for the most part they are in the same scale as is generally used in tabletop RPG playing, so the game is a fairly cheap source of miniatures if that is something you are looking for. The soft plastic can result in them bending a little (the doppelgänger monster seems to suffer the most from the problem) but they can be softened and reset using boiling water if you are so inclined.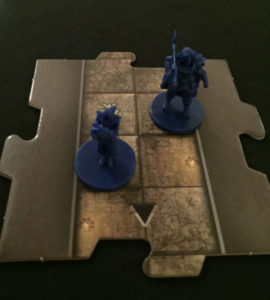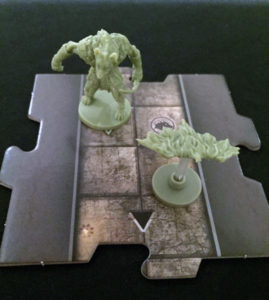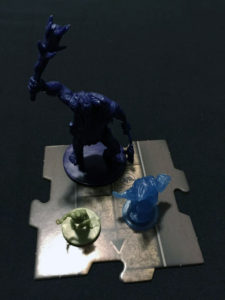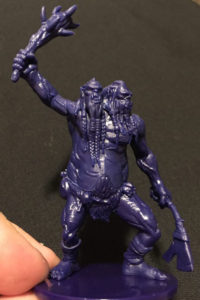 (Hero miniatures, monsters, special monsters, detail)
I would rank the quality of the components to be pretty high. The tiles and many of the counters and tokens are well printed and thick. The colors are vibrant and they are well printed. The cards are good as well, but since Wizards of the Coast also does Magic the Gathering I would hope so. I used clear card protectors (actually illegal in Magic as small differences in the card back might be seen) so I could see the different card backs.
The storage in the box is so-so. The cards all do not fit once you put protectors on them and the miniatures basically are all tossed into a heap. You can put them back into their plastic baggies but that does not provide much protection. I bought extra bags to hold all the tokens.
ToEE is meant to be run as a campaign where the adventures are run in sequence and the characters you use have an opportunity to improve, but it does not have to be. There are 13 premade adventures. 3 of these are town adventures and 10 are dungeon adventures. Typically you have to either retrieve an item or make it to a specific tile or kill a specific monster to win. The game is a cooperative game, players cannot attack each other (with the exception of the very last adventure that introduces a traitor mechanic). You either win as a group or lose as a group. You lose if someone dies and there are no more resources left in the game to bring you back.
The game mechanics are pretty straightforward. Each turn is three phases which are basically your move, explore, and then run any villains or monsters that showed up and play out any encounters. During your turn, you can move and do one action. The move can be split up before and after your action.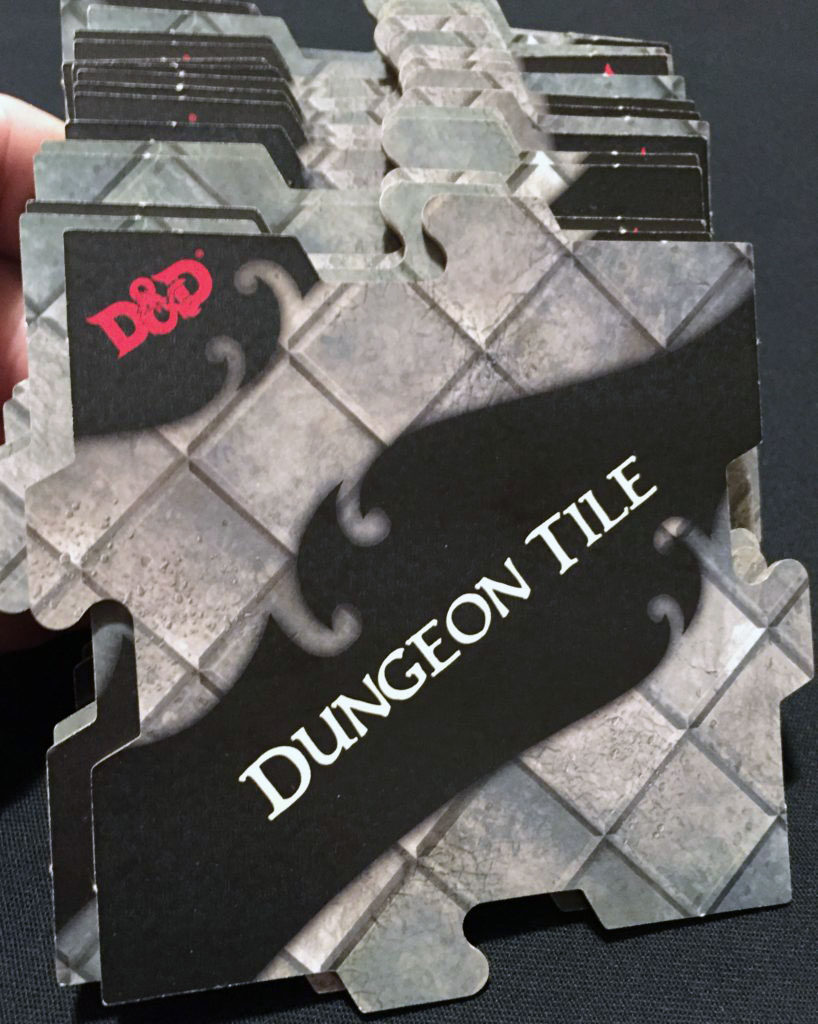 The heroes all have the same statistic categories and these are shared with the monsters as well (not all of them, some like surge are heroes only). The base statistics are armor class or AC, Hit Points or HP, Speed, and Surge Value. Each hero card also has a special ability unique to that hero and lists what extra abilities the hero could have (represented by cards). Your AC is how hard you are to hit, the roll on a D20 (twenty sided die), including any modifiers, has to be greater than or equal to your AC for you to be hit or for you to hit a monster (monsters also have AC). Your HP (and monsters' HP) are how much damage can be taken. When you go to zero you die. Speed is how many squares you can move each turn (each tile is divided up into a grid) and Surge Value is how many HP of damage you heal if you play a surge token (generally limited to 2 in total and used your next turn after you die).  Surge tokens are the resource that bring players back after they die.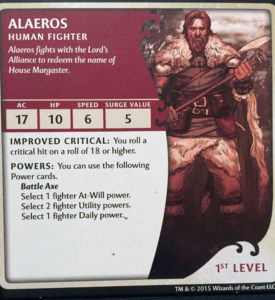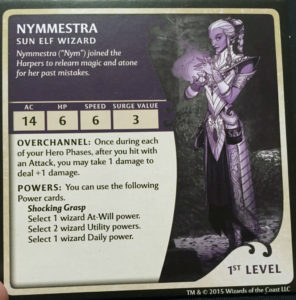 Each hero is modified by a choice of cards that the hero is equipped with. These are at-will, daily and utility action cards. The cards contain the rules for them. A typical at will card is a weapon or spell attack that will have an attack modifier, damage done, and perhaps other special rules written on the card. Some actions, like daily actions, can only be done once per game.
The goal of ToEE is to keep exploring. If you do not explore, you get an automatic encounter and almost all of them are bad and could damage your entire party. If you kill monsters, you can trade in 5 experience points worth of them to negate an encounter, but encounters are the built in clock to keep you pushing forward.
When you turn over a new tile, there are several consequences that could happen. Each dungeon tile has either a white or a black triangle. The triangles are used to indicate which edge is joined to the tile you just explored from and if there is an encounter created by the new tile. White triangle means no encounter, and black means there is an encounter.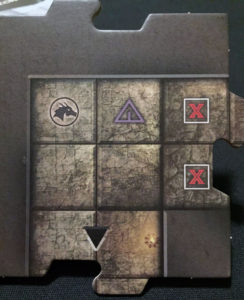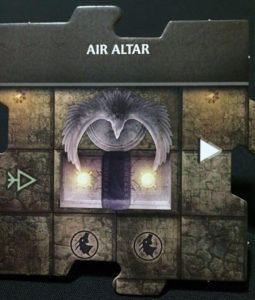 There are symbols and sometimes names and other features on tiles. Unless the adventure you are playing says otherwise, name and special symbols such as cult symbols mean nothing. Little horse heads indicate monsters (0-3 per tile), Red X means place an upside down trap token there.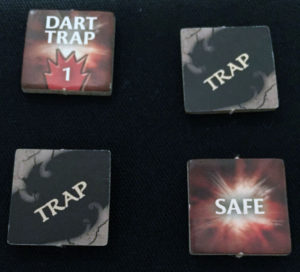 Monsters are chosen by drawing cards from the monster deck and the cards have the monster statistics and rules. Each monster also has a miniature to be placed on the game board. Most of the miniatures are well done with good detail and a few are quite large. They certainly add to the flavor and fun of playing the game. Each monster is played by the player that brought it into play and only activates during that player's turn. The monster cards contain the rules on how to play the monster.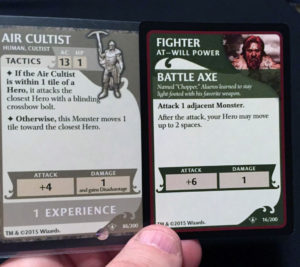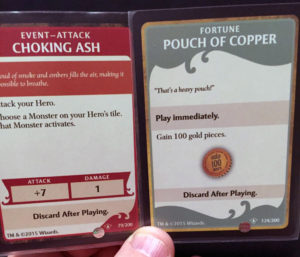 (monster card, hero equipment, encounter and treasure)
There is a lot of dice rolling in the game and there is only one D20 included with the game so I suggest that you toss a few more into the box if you have 3 or more players to speed the game up and reduce searching for where the die has gotten to. Like any game that relies on dice, players can get hot or cold streaks and that can swing the outcome of the game.
Each adventure takes about 45 minutes to play if you have three or more players plus about 5 minutes to set the game up. I was able to explain the basics to new players in about 5 minutes. With. A group of 5 brand new players, several that did not really get the mechanics for a few turns, we played an adventure in about 1.25 hours, but that is the longest we have gone. I played it twice in the regular board game meetup I go to and we won the first adventure and lost the second and the loss mainly was due to bad dice rolls and several very unfortunate encounters that was drawn. The bad dice rolls meant that we did not kill monsters and generate experience points that could be used to negate the encounters.
There is a story that goes with each adventure and the objectives tie to the story, but other than that the story is more flavor than anything else. The game can go for stretches of just killing monsters and gathering treasure.
I would not call it a very deep game, but there are tactical choices to be made. Depending on how well you did, additional (and harder or better) cards are added to the decks and 13 different adventures and 5 heroes to choose from does give it reasonable replay value.
I recommend the game and I think you get pretty good value for the money and most people that like fantasy games and don't mind dice rolling would enjoy it. If you have a regular group you could play an adventure each session and your characters will advance and improve as you successfully complete each adventure. Because it is a fully cooperative game, it may also help when you have a mixed group with some competitive players and others that don't play just to win.