A while ago I blogged about the first role playing game (RPG) book that I had credit in. Two new books just came out and I also have credit in them as well for work I did. I have been more than swamped recently, but my actual work on these were done a while ago.
About a year or so ago, Patrick Pilgrim and I were chatting about how much we liked Frog God Games' books, but how we wished they did 5e better. Patrick, with a little encouragement from me, called their CEO – Bill Webb – and Bill basically said if we thought it could be better then do it for him.
Patrick ended up becoming 5e Frog and really taking the world on his shoulders for this, and I ended up doing conversion work for The Blight 5e, Tome of Horrors 5e and finally Rappan Athuk 5e. Rappan Athuk is the infamous dungeon of graves, famous for being huge and deadly and being a part of the latest incarnation is fun.
I have done a lot in my career and as a father and son, but I must admit, the 12 year-old boy that started playing D&D in high school (yes, I played in my parent's basement) is pretty happy to see his name in the credits. Today, being a nerd is part of the pop culture hero story because so much of the technology we take for granted came from nerds, but when I started playing it was different. I still run into a lot of people my age and quite far in their career (running (or very senior)  big companies) that played D&D when they were younger. Some still do today. There is something about the creativity and the ability to lead small teams that is key in D&D that translates well later in life.
As always, my love to my core gaming buddies who I still DM today (Mark Potter , Ed Elce, Robert "Red" Mair and Sonny Reid) and the two newcomers that joined us (Rob Jordon and my daughter Sarah). I learned the newest edition of D&D (5e) with them.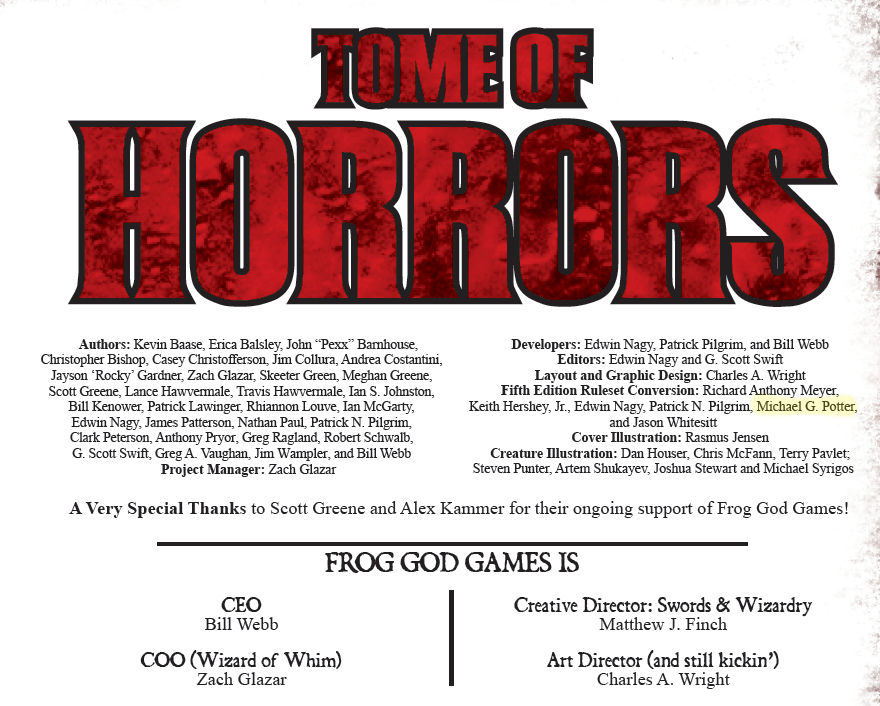 If you want to buy the books, they can be found here: https://froggodgames.com . PDF only right now but available in hardcover in August 2018.